4.02-20: Silver King 1953 Condensing Unit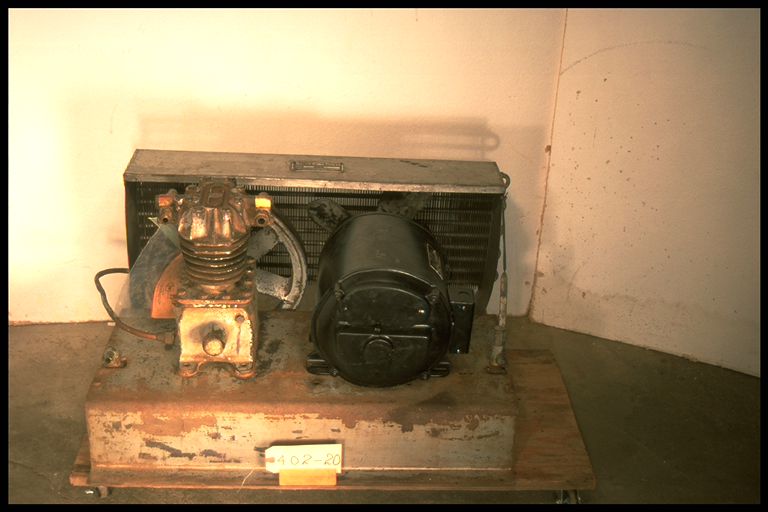 | HHCC Accession No. 2003.058 | HHCC Classification Code: 4.02-20 |
| --- | --- |
Description:
A refrigeration machine by a small, long-gone, Toronto manufacturer, hoping to get a share of the developing market for such machines in the industry's golden growth years of 20th century. The appeal was typically to a small niche market, likely here to the rural Ontario market for, milk can, cooling equipment, Silver King, 1953
---
Group:
4.02 Refrigerating and Air Conditioning Condensing Units - Commercial
Make:
Silver King
Manufacturer:
Silver King Cooler Co, Toronto
Model:
SK6
Serial No.:
Size:
28x 18x 16'h
Weight:
175 lbs
Circa:
1953
Rating:
Education, and research quality demonstrating the work of small Ontario entrances, companies with modest engineering resources, targeting niche markets for open-system refrigeration machines. during the market boom of the middle years of the 20th century.
Patent Date/Number:
Provenance:
From York County (York Region) Ontario, once a rich agricultural hinterlands, attracting early settlement in the last years of the 18th century. Located on the north slopes of the Oak Ridges Moraine, within 20 miles of Toronto, the County would also attract early ex-urban development, to be come a wealthy market place for the emerging household and consumer technologies of the early and mid 20th century.
This artifact was discovered in the 1950's in the used stock of T. H. Oliver, Refrigeration and Electric Sales and Service, Aurora, Ontario, an early worker in the field of agricultural, industrial and consumer technology.
Type and Design:
Brunner compressor #13104 Single pass fin and tube, forced air condenser Wagner ' HP, hevy duty Wagner type RA motor, Sangamo, Toronto Ont.
Construction:
Material:
Special Features:
Accessories:
Capacities:
Performance Characteristics:
Operation:
Control and Regulation:
Targeted Market Segment:
Consumer Acceptance:
Merchandising:
Market Price:
Technological Significance:
Industrial Significance:
The market open to such small, start-up companies would be short lived, for with the advent of more sophisticated, hermetic system design, would come considerable increase in the engineering and capital resources needed.
Most such successful ventures by small start-up companies were predicated on the co-operation of OEM component suppliers, here Brunner, as well as on good working partnership arrangements with other manufactures interested in pursuing the same markets and sharing the work, here likely the Woods Company of Quelph ,Ont, see item #029
Socio-economic Significance:
Socio-cultural Significance:
Donor:
G. Leslie Oliver, The T. H. Oliver HVACR Collection
HHCC Storage Location:
Tracking:
Bibliographic References:
Notes:
Related Reports: